Hi everyone,
Extremely sorry for the delay, but due to multiple personal issues I was not able to upload books last week.
Recently we were not able to cover basic hosting costs of the website. But a particular ad network started giving up pop ads like covering the whole website with ads and opening up ads even if you didn't click on it especially if you are using mobile to view the website. The ads were somewhat like this: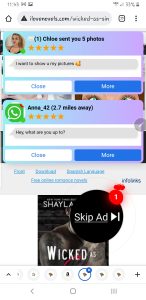 As said earlier, I was not properly available so I was not able to properly check the website. But now I have blocked these specific ads, if you are still getting these annoying ads, please let me know via email: booksnovelzzz@gmail.com, so I will be able to remove these particular ads. Also note that some other ads are required for us to pay the bills of hosting and domain renewal charges every month/year. So we will not be able to remove all the ads, just the annoying ads, especially those which are messing up your user experience on the website.
P.S. Next batch of books will be uploaded this weekend.
Regards